Seeking a Gameplay Programmer?
Here's a portfolio of my most impactful games programming work
Published December 20th, 2022
I primarily work as a senior full-stack engineer (9+ years).
However, I also have professional experience in Unity and C#. And I apply the same professional rigor from my non—games experience to my games work.
Thus, if your game studio is looking for a senior gameplay engineer, let's chat.
Shoot me an email, and I'll get back to you within the next business day: jasontu4@gmail.com
Otherwise, you can browse my past experience below 👇
Contents


🟡 Spots
December 2021
I implemented a minimalist, match-3 game in Unity, C#, and GLSL.
This project is a pared-down implementation of Dots: A Game About Connecting by PlayDots.
You can play the game right in your browser by clicking here (opens in new tab).
A GLSL shader implements the progress bar. If you're curious how it's implemented, the game is open source; you can inspect the shader here.
You can also review implementation notes here.
The impact
This project landed me a job offer as a Senior Unity Engineer at PlayDots. However, we did not work together due to my team lead commitments at Wonder (my employer) at the time.
🏓 Pocket Pong AR
July 2021 - November 2021

It's Pong... but with a twist!



I designed, scoped, implemented, released, and marketed Pocket Pong AR—a mobile AR (Augmented Reality) game for iOS.

If you own an iPhone, give it a play by visiting the itch.io page.
The impact
Pocket Pong AR is my first shipped game, and taught me all the steps needed (scoping, pre-production, production, playtesting) to ship even the simplest of games.
I subsequently wrote a blog post about my experience, which hit #1 on Hacker News and garnered 450+ upvotes.
🔔 Prodigies Bells
January 2021 - March 2021
Prodigies Bells is an iOS application that I worked on for Prodigies Music.
I was brought on as a freelance Unity engineer to handle all software development responsibilities—from UX design, to C# scripting, to app store submissions.
See details about the project in my case study:
How I rehauled Prodigies Music's bell instrument app for 5-star customer ratings
The apps are also freely available for download on iOS or Android.
The impact
I addressed the feedback from Prodigies Music's poor reviews, and many past reviewers revised their app store ratings to 5 stars: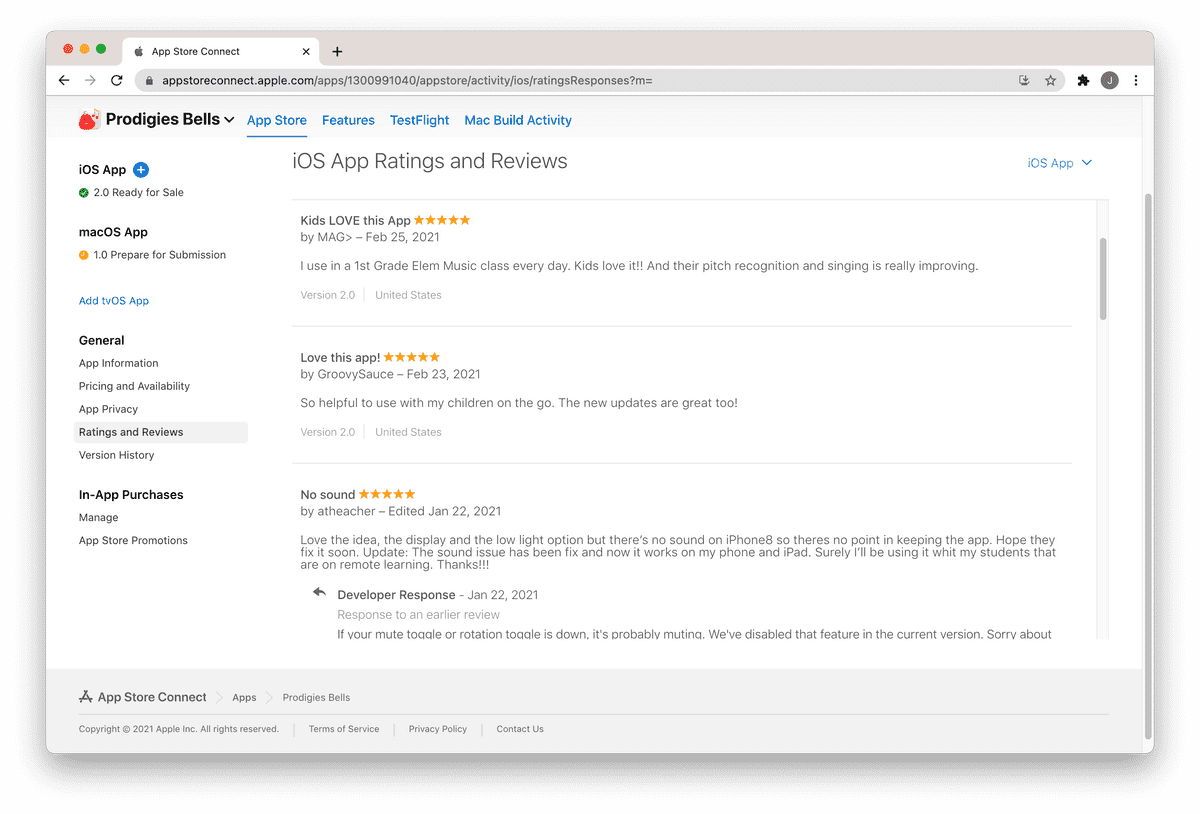 My client Henry was happy with the end result, and left a 5-star review at the end of our contract: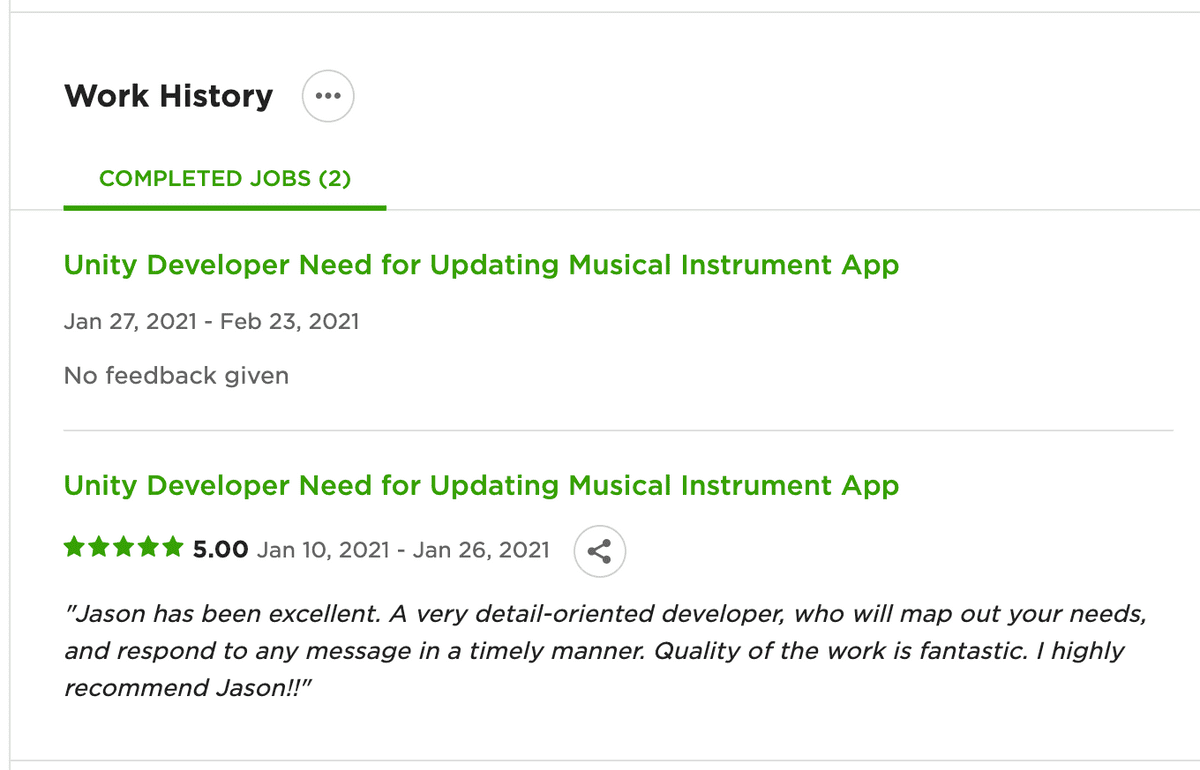 👾 PICO-8 Prototypes
2017 - Present
I make goofy little prototypes in PICO-8: an all-in-one game engine designed for building small games and visual demos.
Then I share the prototypes on Twitter in the form of eye-catching GIFs.
The impact
PICO-8 is an excellent platform for honing your ability to create "hooks" in your games, because you can easily share GIFs on social media.
I created one prototype that garnered 200+ likes on Twitter, as well as many retweets from prominent members of the indie game development community.
📣 Writing, Speaking, and Open Source
2018 - Present
I write blog posts about game development (this blog).
I create YouTube videos about game design and AR (Augmented Reality).
And I create open source projects that other game developers would find useful, such as the Shaders for Game Devs Workbook.
I'm writing a guide called Game Codebase Tours. It's a resource that teaches new game developers how to approach problems and write high-quality code, but by example.
It garnered a huge response on the /r/gamedev subreddit, yielding more than 1.6k upvotes.
Impact
Many of my blog posts have been shared and circulated online: I've reached the Hacker News front page on 4 separate occasions.
Additionally, my email list has grown to over 1k subscribers, and my few YouTube videos have been viewed thousands of times.
I'm skilled at sharing what I know online, and I'm more than happy to do the same for your game studio.
🤝 Let's work together
If you're impressed and would like to work together, simply shoot me an email: jasontu4@gmail.com
I look forward to hearing from you.